Shuyi and Michelle came to do both mani & pedi for CNY. They were 2 very cute girls, who kept thinking they were difficult customers cause they spent quite a long time at my place. Hahahah. They definitely brought a lot of joy as we talked and laughed through the nail session. (: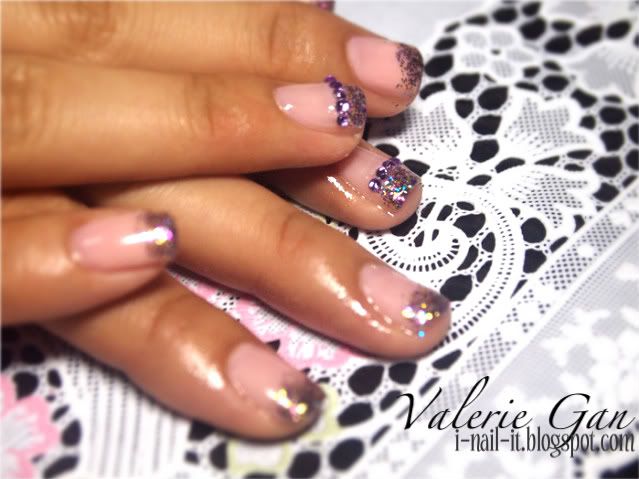 (pardon the "oily" look. just applied cuticle oil (: )
Shuyi didn't know what to do for her manicure, so I told her about the design of the previous customer (Sihui). She decided to give it a shot, but she wanted 1 finger to be different from the rest. I suggested adding a set of rhinestones on the french line of both ring fingers to make it stand out. It turned out really nice! It was different from the other fingers. Special, but didn't make it look weird or mismatched. A new design added to my profile. (: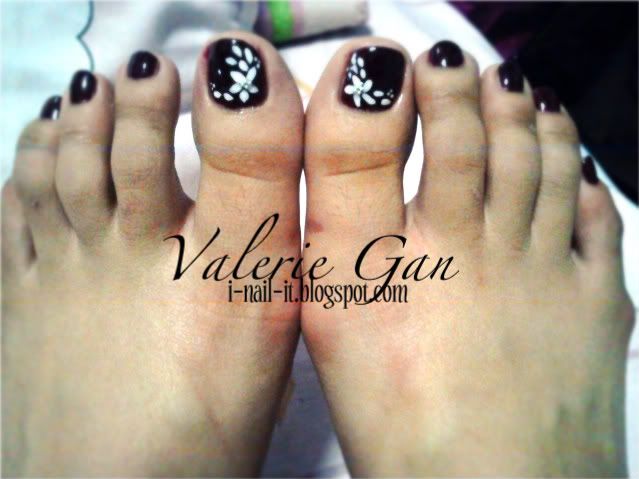 Malaga wine once again! It looks nearly black in this picture, but it's probably the lighting. Still looks very red in real life. Shuyi went for white flowers on malaga wine. It was a breeze painting on her toes because she hardly has any cuticles! But I got to work harder on making the designs on both toes symmetrical. Need alot of improvement on that.
It was Michelle's turn to do her nails! She chose the same design as Shuyi. This design was a very popular design for the day. Probably because it's not too elaborate yet at the same time, it's very suitable for CNY. She kept asking Shuyi if it was alright if they had the same design. Hahaha. But Michelle chose a different colour combination.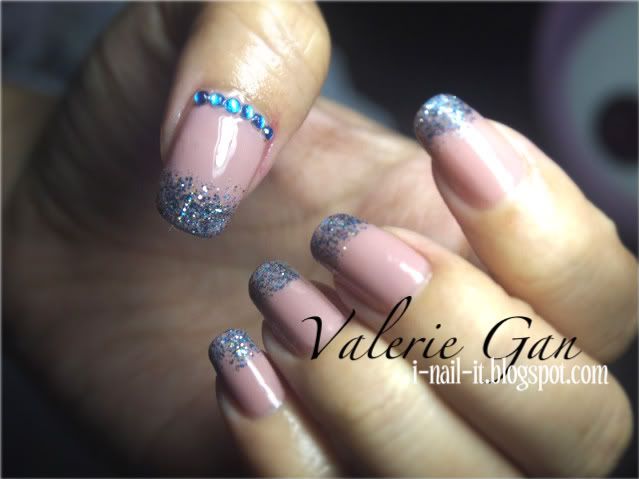 Michelle chose a pinkish base topped with blue glitter and a line of blue rhinestones near base of the nail bed. Lovely design don't you think? Her nails were perfect for such a design because they were already rather long. This design further brings out the elegance and length of her nails. Lovin' it !
Michelle did her toes too! She thought of this design on her own. Credits to her! She was innovative enough to tell me she wanted an inverted nike sign, somewhat like a candy cane. And if you notice, when you imagine both toes to be together, it actually forms a heart. Interesting!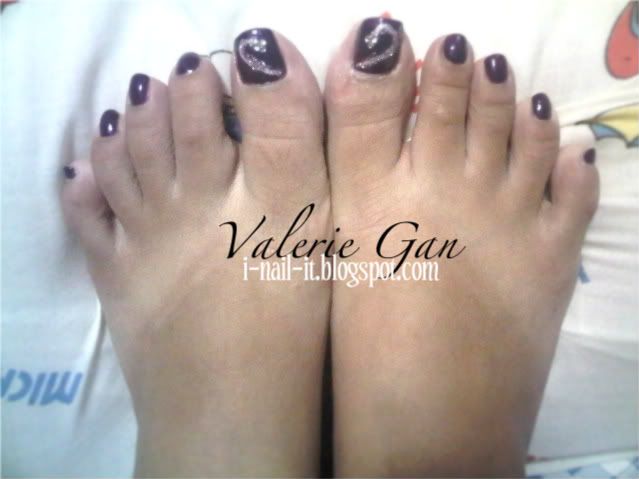 It was such a joy having these 2 ladies at my place. And not to worry! You 2 are not difficult customers! Hahaha. (: